November 29, 2016
Dear Friend of the Campaign for Peace and Democracy,
In the coming months we will need to challenge not only Trump's pernicious domestic agenda but also his foreign policy.
Given Trump's incoherent foreign policy pronouncements ranging from anti-interventionist calls designed to appeal to war-weary Americans, to his "plan" to defeat ISIS -- "Bomb the shit outta them" -- it's hard to predict what international policies Trump will actually decide to pursue.
But we can safely assume that Trump will rely on brandishing an even larger and more menacing military arsenal than the U.S. already possesses, demonstrate nothing but contempt for human rights, democracy, or protecting the environment from catastrophic climate change, and advance a global economic agenda that will further subject the world's people to the ravages of austerity and grotesque levels of inequality.
Even as we resist Trump at home, we need to counter his dangerous and inhumane policies abroad with a principled and practical alternative foreign policy. Since its inception, CPD has been committed to such a policy. To sustain our efforts in this critical time, we need your help. Thanks to your generosity, we've supported the initiatives below in the past years. We're asking for your support to continue our work in the challenging months ahead.

GREECE, TRUMP,
AND THE RISE OF THE RIGHT IN EUROPE
CPD has worked to build solidarity with the people of Greece, starting with the rise of Syriza as an amazing new radical political force in 2012, and continuing through to today, when the Syriza government is implementing more and more austerity measures demanded by the country's creditors, with no end in sight.
Economic hardship for ordinary people is, of course, one of the key factors behind the election of Trump and the growth of right-wing parties across Europe, and the response of the left both here and abroad is crucial to countering this dangerous trend. In that light, we have organized a New York City forum with AKNY-Greece Solidarity Movement: "Europe: Can the Left Actually Win?" The forum will assess recent European left strategies in Greece, Spain, and Britain, and their implications for the left in the United States.
We plan to videotape and livestream the proceedings for our friends around the country and around the world, but we hope if you are in the New York City area you can join us in person. The forum will take place at 7pm on Tuesday, December 6th in Room C197 at the CUNY Graduate Center, located at Fifth Avenue and 34th Street in Manhattan. Please bring picture ID.
Check out the event's Facebook page. Reservations are not required, but to be sure of a seat, contact us at cpd@igc.org with your name and the names of your guests. (Indicating "going" on the Facebook page is good, but will not assure you of a seat.)


As part of our Greece solidarity work, in September CPD circulated two articles by Yanis Varoufakis, former Syriza finance minister, which explore the issue of whether Syriza should have been prepared to defy its European and IMF creditors, and what attitude the left should have taken toward Grexit, the plan for Greece to exit the Eurozone, as well as Brexit, the vote for Britain to leave the European Union.
Later this year we hope to bring Helena Sheehan, author of the important forthcoming book,The Syriza Wave: Surging and Crashing with the Greek Left, to speak in the United States. The book will be released January 1, 2017. U.S.-born Sheehan now lives in Ireland, where she has been active with the left for many years; she has been a frequent visitor to Greece. We're exploring the possibility of a book tour with The Syriza Wave publisher, Monthly Review Press, and with AKNY. Stay tuned for details and how you might participate.
OUR REPLY TO TRUMP'S FOREIGN POLICY:
OPPOSITION TO TYRANNY EVERYWHERE
NO TO IMPERIAL INTERVENTION,
WHETHER BY THE U.S., RUSSIA, NATO, OR IRAN
We need to counter Trump's dictator-loving cynicism and swaggering militarism with an alternative foreign policy based on genuine solidarity with movements for democracy, peace and social justice around the world -- not on a continuation of Republican or Democratic imperial policies of the past. In its recent work the Campaign for Peace and Democracy continues to show what a new foreign policy would mean.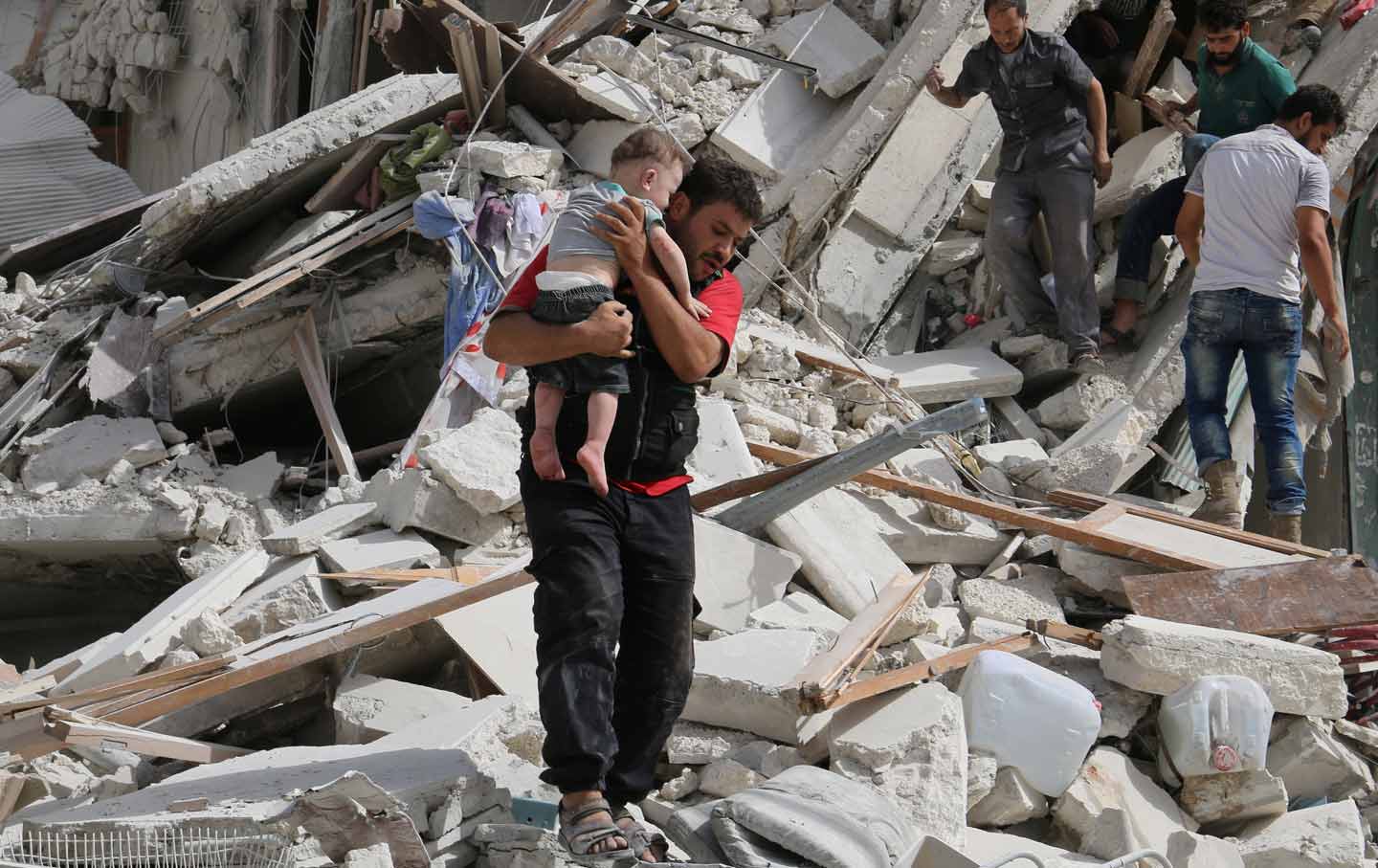 A man carries an injured child after airstrikes on a rebel-held neighborhood of Aleppo, Syria, September 21, 2016. (Reuters / Abdalrhman Ismail)
FOREIGN POLICIES
OF SANDERS, TRUMP AND CLINTON
CPD depends on your contributions, so please give as generously as you can.
To donate on line, visit our website. You can mail your check made out to Campaign for Peace and Democracy. For credit card gifts, mail the amount, card number, expiration date and your name, noting if it's a one-time or a monthly donation. Foreign donations must be made by U.S. money orders or checks payable in U.S. currency drawn on U.S. banks. Our address is Campaign for Peace and Democracy, 2808 Broadway, #12, NY, NY 10025.
Donations are tax-deductible. Thank you very much in advance for your support -- we could not survive without your help.
In peace and solidarity,
Joanne Tom
Joanne Landy and Thomas Harrison
Co-Directors, Campaign for Peace and Democracy