Update on Today's Greek Protests
November 12, 2015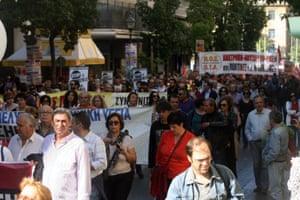 Photo: Marios Lolos/Xinhua Press/Corbis
In a stunning display of discontent against the draconian measures the Greek government is adopting to comply with the austerity demands of European elites, today thousands of Greeks went on strike and engaged in angry protests. These protests come just four months after the Syriza government agreed to implement the "third memorandum," and less than two months after September elections that many said showed broad popular acceptance of Syriza's actions. In and of themselves, today's demonstrations and strikes don't constitute an alternative to government policy, but we hope that they mark the beginning of building that alternative.
Below are stories from The Guardian and The New York Times describing the protests.
In peace and solidarity,
Joanne Tom
Joanne Landy Thomas Harrison
Co-Directors, Campaign for Peace and Democracy
www.cpdweb.org
Report from The Guardian Blog
http://www.theguardian.com/business/live/2015/nov/12/greek-general-strike-against-austerity-measures-business-live
OK, it's time for a recap after a fairly dramatic day.
The first general strike since Alexis Tsipras took power in Greece has been marred byisolated violence in Athens.
Riot police fired tear gas after a group of extremists launched Molotov cocktails at them, in scenes reminiscent of the 2012 debt crisis.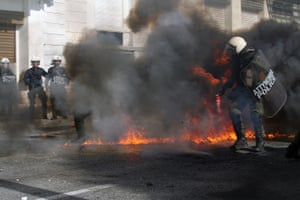 Photograph: Marios Lolos/Xinhua Press/Corbis
Petrol bombs were also thrown at bins, a van, roadblocks, and the front of the Bank of Greece's offices. Reporters on the scene said groups of youths were behind the disruption.
Riot police hit back with teargas and stun grenades, sending demonstrators - and at least one group of holidaymakers from the UK - scattering.
Before the clashes, more than 20,000 people marched through Athens to urge the government to abandon the austerity measures demanded by its lenders. Here's a selection of photos from the day.
Demonstrators told us that they fear for Greece's future, as winter approached.
Marilena Pavlou, a nursery school teacher, warned:
"The situation is tragic and soon when the government pushes us more on the tax front, more on the cuts front it won't be good natured at all.
And 63-year-old Maria Athanassiadou told AFP:
"I am protesting against the government because they are making fools of us. I am a pensioner and I have no idea what my pension will be."
Unions say that today's general strike was well-observed across Greece, as the public show their anger over Greece's third bailout package.
But small businesses have criticised unions for calling the walkout. They fear it will harm the country's attempts to end the financial crisis.
Transport connections have been shut down today, along with some museums, schools and pharmacies. Many travellers arrived at rail stations or ports to find trains cancelled, and ferries tied up.
Belgium's finance minister criticised Tsipras's Syriza party for supporting the protests, against a bailout which Tsipras signed up to this summer.
But a government spokesman denied that this was inconsistent, as:
"We are implementing an agreement which includes (bailout) measures which are unfair."
And while the protests took place, officials from Greece and its lenders battled to reach a deal on mortgage arrears rules. Athens still wants to protect more homeowners from losing their houses if they can't meet their repayments.
A deal must come before Monday, if Greece is to unlock €10bn of aid to recapitalise its banks, plus €2bn in loans.
* * * * * * *
Greek Strike Shows Conflict Within Government Over Austerity
By NIKI KITSANTONIS
NOV. 12, 2015
http://www.nytimes.com/2015/11/13/business/international/greece-general-strike.html?_r=0
ATHENS — Hundreds of thousands of Greeks walked off their jobs on Thursday to protest austerity economics, as officials of the leftist-led government wrangled with the country's international creditors over the terms of Greece's third bailout. At least one Athens protest turned violent.
The 24-hour walkout shut down public services, forced the cancellation of flights and disrupted public transportation across the country. Ferries remained moored in ports, hospitals were operating with reduced staff, and museums and archaeological sites were closed.
An estimated 20,000 people joined three demonstrations in Athens, one organized by the country's two main labor unions, another by the Communist Party, and the third drawing students and leftists, according to a police spokesman.
Though the protests were mostly peaceful, a gathering near the Parliament building in the early afternoon turned into a clash between riot police officers and roughly 100 masked youths, who hurled stones and firebombs. The riot police responded with tear gas, as a police helicopter circled over the city center and crowds fled the acrid smoke.
A police spokesman said a few hours later that calm had been restored in the city, although several bank branches had been damaged.
General strikes have been common in Greece in recent years as the country has struggled with the privations of recession, high unemployment and the belt tightening the country's foreign creditors have demanded. But Thursday's general strike was the first under the Syriza-led government of Prime Minister Alexis Tsipras.
Mr. Tsipras came to power in January on a promise of ending years of austerity, but by summer he had agreed to an international bailout program of 86 billion euros, or $92 billion — the country's third rescue package since 2010 — as the government was running out of money and Greece was on the brink of leaving the euro currency union. To secure the public's reluctant support for the program, Mr. Tsipras called for new elections and was returned to power by a wide margin in September on a pledge to enforce the new bailout while easing its impact on poorer Greeks.
Though Mr. Tsipras succeeded in purging Syriza of radicals who had resisted a compromise with creditors during his initial term, divisions remain in his party over the issue. An indication of that deep rift was evident this week as Syriza's labor policy department called for "mass participation" in Thursday's strike and in the protest rallies planned for Athens and other major cities.